The Advantage of Smart Moves
One call does it all
With one phone call you can arrange to have your product picked up from your facility, delivered to our consolidation warehouse, and re-delivered to your customer.
We make transportation worry-free
We make all the appointments.
We notify you of any issues that may arise (weather delays, dock delays, shortages, overages).
We invoice you directly and you pay us directly.
We have a 98% percent on-time delivery record.
We have a less than .01% claim ratio.
If there is a claim we manage the claim for you.
We only use carriers with up-to-date equipment.
We keep the same carriers on the same routes to assure fast dependable service.
WE'RE READY TO HELP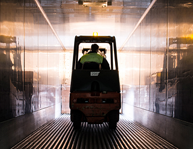 Our load consolidation and optimization services are designed to allow our customers one-stop service.
Dependable Transportation
Northland Freight Services provides one-call convenience for pickup and delivery of your refrigerated freight commodities.
Our freight services can save you money through freight consolidation and optimization.
Our fleet of dedicated carriers can service all of the lower 48 states.
We provide cost-effective, service-oriented solutions for refrigerated, dry and frozen moves.
Contact Us
Freight Consolidation
In the early 1990's as Northland Cold Storage began to see dramatic increases in less-than-truckload (LTL) shipments from its facilities, a simple request from a customer grew into an entire division, Northland Freight Services.
"LTL rates are killing my business. Can you help?" became the starting point.
By reviewing all of the shipments originating from Northland facilities, we were able to build full truckload (TL) shipments with multiple stops. Since TL rates are significantly lower than LTL rates, almost every customer was able to save money on freight by having Northland build the loads. So began Northland Freight Services.